10 March 2020
Pupils help tackle London's air pollution crisis with help of Mayor's fund
Year 5 students from Oriel Academy West London have sought to tackle the idling problem that surrounds their academy at drop-off and pick-up time of the school day.
This is in light of research published by the Transport for London (TfL), suggesting that engine idling is a significant contributor to the pollution crisis in our capital.
Pupils from across the year group descended on the area surrounding the school to inform parents, carers and members of the local community about the environmental and health impact of leaving vehicle engines on while parked up outside.
With their blue high-vis vests, labelled "I'm no Idler!", pupils went out to hand out leaflets explaining the campaign and recite the knowledge they had attained from a talk delivered to all of Year 5, which enthused the students as they wanted to have an impact on the air quality in their community.
Funded by the Mayor's Air Quality Fund, an initiative set up by the Mayor of London, Sadiq Khan, in his bid to improve air quality, project staff from the London Borough of Hounslow visited the school to recruit no-idling volunteers among the Year 5 pupils.
There was a positive response from the students and the members of the community alike, with some parents being particularly surprised by the information relayed to them by the students, such as the fact that engine idling is actually more dangerous for the person/people sat inside the vehicle than those that are outside.
Liana, aged 10, said that: "Parents and carers were very respectful and kind.  They turned off their engines when we asked."
Her classmate, Ayiesha, aged 9, admitted that it was quite nerve-wracking at first: "At first I was scared to talk to random people but it got easier."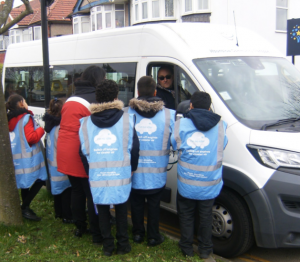 This point was particularly important to Year 5 teacher, Helen Owden: "Of course it is important to raise awareness about the dangers of idling in the local area, particularly because it can get very congested around the school around drop-off and pick-up time"
"But also, it allows the children to be more involved with the parents and build a greater relationship between them and the community, all while practicing speaking to people outside of the classroom and building their confidence!"
The anti-idling project is a part of Oriel Academy's commitment to TfL's STARS (Sustainable Travel: Advice, Responsible, Safe) accreditation scheme, as the academy seeks to become a gold accredited school in supporting pupils' wellbeing, reducing congestion and improving road safety and air quality.