23 June 2020
Mini-journalists stay connected through lockdown newspaper project
Students at Oriel Academy West London have been writing newspaper reports throughout lockdown as part of a key initiative to keep the children connected to each other and their teachers.
The newspaper article writing task was set after Mary-Jane Reddings and her Year 1 team wrote their own newsletters to keep the pupils up-to-date with what they were up to.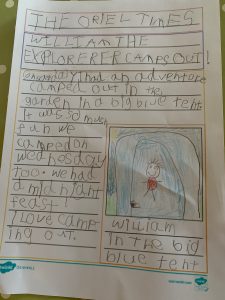 Mary-Jane said: "We wanted to give the children an insight of what we were up to at home during the lockdown.
"Mostly, it was to keep in touch with them. When you can't be there physically, it's important that they stay connected to you, so we decided to show them a little bit of our lives in lockdown."
The newsletters that the Year 1 team wrote to the pupils were delivered via Google Classroom, along with a video that they made, which can be found below.
Then, a week's worth of work set was teaching different aspects of writing their own newspaper reports.
This included covering what a headline is supposed to be, looking at captions and pictures, what the main body of the text should consist of, and other key skills that are required to write their own reports about what they have been up to during lockdown.
"After going through all of the skills that they need, I then asked them to use all of those skills and combine them together to produce some reports of their own.
"And the entries that we got back were amazing!" Mary-Jane added.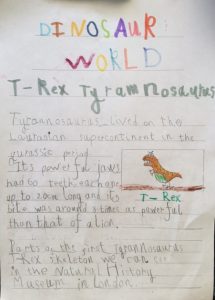 The articles that were submitted to Mary-Jane and her colleagues included William's adventure camping in the garden with his family, which also involved enjoying a midnight feast!
Meanwhile, other pupils decided to write about the gardening that they have been completing, as they have been growing strawberries, peas and roses.
One student even used this opportunity to relay his excitement about Premier League football recommencing this month.
Mary-Jane explained: "I left it totally open-ended for them, so that they could be creative and make the project their own by writing about whatever it is that interests them.
"As well as exploring their own creativity, it was a great opportunity for the pupils to practice their artistic skills, their handwriting, and their ability to fact-find online and research" she added.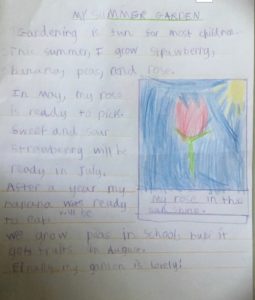 The exercise meant that the pupils were able to hear about what each other have been occupying themselves with whilst the school has been closed, feeling a better sense of connection between themselves and their classmates.
This is particularly important for children in Year 1, as they are only five or six years old, and have less of an understanding why they aren't able to see their teachers and friends.
The newspaper project is part of an ongoing commitment from Key Stage 1 staff to staying in regular contact with their pupils, via Google Classroom and by telephone, as the pupils continue to learn from home as the academy remains partially closed.