01 June 2020
ATL project that combines English, science and art to address global warming
Setting engaging home-schooling has been imperative to keep children focussed whilst schools have been closed since the country went into lockdown in March.
At Oriel Academy West London, teachers found an innovative way of doing this by setting a mini-project that involved combining elements of English, science and art.
In the project, titled 'Habitats', students were tasked with choosing a living creature and researching their habitat, ranging from fish, mammals, birds, invertebrates, amphibians or reptiles to cover the science aspect.
This was then combined with producing a piece of descriptive writing, accompanied by a sketch of the animal they chose, covering the English and art aspects.
Jana Khalife, 11, left her teachers so impressed with her project that they singled her out for high praise due to her mature and independent approach to her learning.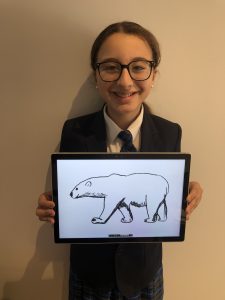 The idea of combining elements of different subjects in one project is an example of Applied Transdisciplinary Learning (ATL) and is a core principle of the Aspirations Academies Trust's 21st century approach to education.
Oriel Academy have been running ATL programmes with Year 4, incorporating multiple subject areas in short project-based learning assignments lasting between 3 and 11 weeks.
From September 2020, Years 3, 4, 5 and 6 will incorporate ATL assignments into their curriculum.
These assignments are designed to apply learning from single-subject lessons, and incorporate it to real-world situations across different domains, ensuring student learning is relevant and engaging.
In this instance, the 'Habitats' project was set for the pupils to revisit content covered in science lessons earlier in the academic year and provide a taster of the kind of lessons that Year 6 will be engaging in from September.
The Year 6 students demonstrated their varied knowledge of animals and their habitats by submitting work to a high standard on a variety of insects, birds and mammals.
However, it was Jana's work that was particularly impressive for Year 6 class teacher, Samantha Webb, as she commended the 11-year-old's efforts: "Jana has a wonderfully mature writing style and vocabulary.
"She is just very wise when she comes to presenting her ideas and manipulating them for a reader.
"All of her work – the presentation, the layout, the effort. This wasn't something that she saw as a task that she could sit and complete in 20 minutes, but clearly something that she took her time with, showing huge responsibility for her work" Samantha added.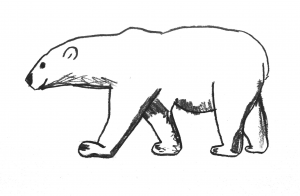 In her descriptive piece, Jana honed in on very complex and mature ideas such as the polar bear becoming 'malnourished' due to the lack of food sources in the Arctic, exacerbated by global warming and the subsequent melting of the ice caps.
The attention to detail in her research shone through in her depiction of the polar bear and its habitat.
It is this mature approach to her learning that really impressed her teachers, and in Samantha Webb's words: "Jana is just ann-round exemplar student."
The success of home-school projects like this is a testament to the importance of transdisciplinary work, which, from an early age, instils in the pupils the ability to work independently and to a high standard.
You can read an excerpt of Jana's descriptive writing piece about the polar bear below:
"My beloved babies are now protected from the evil, villainous detection of the freezing, cold air, with many thanks to the superior, angelic sun, who has the heat that gives the world happiness. Living down below,  with jubilation, the seals are living in peace, all until the malnourished polar bear has caught its eye; a juicy, succulent seal."